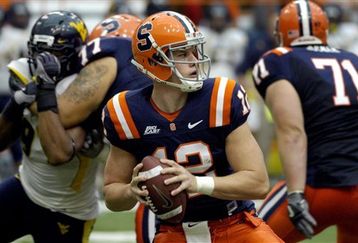 Syracuse's first drive against the West Virginia Mountaineer defense on Saturday opened with promise. Running backs Antwon Bailey, Delone Carter and Averin Collier had moved the ball 26 yards down the field on the ground and quarterback Greg Paulus completed his first pass attempt to tight end Mike Owen for a solid eight-yard pick-up.
The Orange were moving the ball.
However, on the seventh play, the drive was derailed in a tragically familiar fashion for the Orange as Paulus threw a terrible interception.
The play aroused bad memories of an overtime interception that sealed Syracuse's fate against Minnesota in the season opener as well as the five that plagued the former Duke point guard against South Florida last week.
The West Virginia defense erupted in celebration as they jogged off the field, giving the ball to Jarrett Brown, Noel Divine and the WVU offense with great field position.
Eight seconds and one 11-yard pass from Brown to Divine later, WVU had a 7-0 lead.
Paulus finished the half with an unimpressive stat line: 5-of-9 for 30 yards and an interception.
With a 27-0 deficit at the start of the second half, it was not No. 2, but No. 12, redshirt freshman Ryan Nassib, who took the reins of the Syracuse offense. Nassib performed decently, completing 7-of-16 passes (with at least four drops by Orange receivers) for 120 yards and two touchdowns.
Included was a 50-yard completion to star receiver Mike Williams on a beautiful double play-action fake, the same play that resulted in Paulus-to-Williams touchdowns of similar length against Northwestern, Maine and USF.
Nassib's performance was far from perfect. Many of his incompletions came on throws behind his receivers or over their heads. And his touch left something to be desired.
However, the undeniable zip on his passes wowed the announced crowd of 40,144 at the Carrier Dome, leading many to call for his insertion into the starting lineup.
After the game, Doug Marrone quickly ended that speculation, stating that Paulus was his quarterback and would start in Syracuse's next game against Akron on Oct. 24.
Marrone's announcement has done little to temper the Paulus-Nassib debate amongst Syracuse fans.
Paulus supporters cite the senior's successes against Northwestern and Maine. The Nassib camp looks towards the future of the program, saying that Marrone should get Nassib valuable game experience since he is the heir-apparent for the position anyway.
Marrone needs to start whoever gives the team the best chance to win this season.
Syracuse football is at a crossroads.
Doug Marrone is in his first season and has said and done all of the right things off the field. In addition, the on-field performance has been much better than it was under former head coach Greg Robinson.
However, the only thing that is going to rejuvenate this proud program is pretty obvious.
In the words of Syracuse alumnus Al Davis, "Just win baby."
Attendance in the Dome (especially among students) is absolutely stagnant. If Syracuse is going to contend in the games it faces a talent gap, it needs a full "Loud House."
If they are going to recruit well, which Marrone has been doing thus far, a full stadium is instrumental. Promise and hope brought people out for Minnesota and Northwestern, but the numbers have been slipping steadily since.
Going to a bowl is the easiest way to propel the program back into the national scene, and it is still achievable for the Orange this season. They have won two games after two very strong performances by Paulus.
Entering the game against West Virginia, Paulus was on pace to break multiple single-season records for Syracuse passers, eclipsing greats like Donovan McNabb, Don McPherson and Marvin Graves.
Call Paulus an "experiment" if you must, but the results are undeniable. He can win football games.
If Paulus continues to struggle when Akron comes to the Dome on Oct. 24, then Nassib should probably be given the job. However, coming off a bye week, Paulus' tired arm should be re-energized and the Orange should be primed to win their third game and keep the hopes for a bowl berth alive.
Give Paulus a chance to be successful. If he returns to the form we saw against Northwestern, Syracuse can win four more games and make the improbable run to .500 in Marrone's first season.
Immediate success will do eons more for this program than a few snaps for a quarterback who may or may not be the future of the team. There is no guarantee that Nassib will be the answer next season.
True freshman Charley Loeb will have had the same amount of time in Marrone's and offensive coordinator Rob Spence's system. Two promising recruits, Jonny Miller (Mullen HS, Denver, CO) and John Kinder (Lawrence SHS, Cedarhurst, NY), are also coming in at the position.
Orange fans need to back Marrone's decision, cheer on Paulus, and give him the chance to succeed.
He has exceeded almost everyone's expectations thus far, and can continue to do so. If he does, Syracuse will be on the track to reemerge as an Eastern football power much sooner then we could have hoped for.